The Secrets That Turn Wilted Vegetables Into Savory Dishes
It's a frustrating sight — wilted vegetables with shriveled skins and droopy leaves hiding in your fridge or pantry, and as always, it's dinner time. Missing produce freshness by just a day or so and having to throw money to the wind is frustrating indeed. Especially if that produce is organic and costs an arm and a leg. But wait!
Don't trash it! There are a few secrets to making wilted vegetables work for you in the kitchen after all.  
The first secret to cooking with wilted vegetables is that they don't have to be limp at all! That's right, you can work some magic and bring them back to life. And on the rare occasion that the first secret fails, some of these vegetables can still be salvaged into delicious recipes despite their shape, but more on that in a minute.
For now, remember, plants are mostly water. Hint, hint they need water to stay fresh once they can't rely on their root system (been harvested). Why do you think those misters are on intermittently at the grocery stores? To keep the moisture levels up, of course.
Usually in plants, the cells within the plant are what are known as turgid, which means that they're absolutely stuffed full of water which keeps moving into them by osmosis.  They're very rigid which is how plants are able to support themselves.  But if they're not able to get enough water, water will move out of the cells and the cells become sort of floppy or what's known as flaccid and that is why the plant is no longer able to support itself and the leaves go all floppy and wilted and soft.
The Sad Veggie Lineup
Don't Chuck'Em Yet — These Wilted Vegetables are Keepers
At this point, you're probably wondering what you've been missing. Wilted veggies may seem offensive to eat but believe me after I made my first (skeptical) dish with some drying out lettuce, I was hooked!
Here is a partial (to me) list of  shriveled veggies and droopy greens that are better off in your pot than the trash bin or compost pile, if you're like me. I know that I am probably not making any points here with adjectives like "shriveled" and "droopy" but stick with me, I believe, if you try one of the recipes to follow, you'll change your mind too…
Celery
Tomatoes
Potatoes
Carrots
Lettuce
Kale
Cabbage
Peppers
Onions
Zucchini
Spinach
Revive the Wilt if You Can
Not All Things Can Be Saved (and not all the time) But These are Worth a Shot
How to Revive Wilted Carrots
Cut off the green end of the carrot (the fat end) and stand it in a glass of ice cold water.
How to Revive Wilted Celery
Whether reviving a single stalk or a whole head of celery, cut off the bottom (lighter end) and stand in a glass or vase of ice cold water.
How to Revive Wilted Potatoes
Peel the offending potatoes and place them into a pot of ice cold water.

How to Revive Wilted Peppers
Cut the wrinkly peppers and give them an ice cold bath in a sink or pot.
How to Revive Wilted Lettuce
Some people like to approach limp lettuce the same way as the peppers — ice cold bath. Alternatively, you can cut the bottom of the lettuce stems (at least an inch) and stand in an ice cold glass or water or vase. PS. It looks lovely!!!
How to Revive Wilted Cabbage/Spinach
An ice cold bath in the sink or pot is the best method for livening up dried out cabbage or spinach.
How to Revive Wilted Kale
Kale's thick texture won't benefit as much from an ice cold bath as much as lettuce would. Kale is better off having the ends trimmed and put into an ice cold glass of water or vase.
Revival Tips for Wilted Vegetables
Cutting up into smaller parts will speed up the crunch time whether the vegetables are taking a bath or are being displayed as a bouquet somewhere.
The amount of time it takes to revive the dying veggies depends on the severity of the wilt. It's safe to say that a few hours would do the trick. For severe limpness, a little longer.
Got other things that need reviving? Try giving it hydration. Think ice bath.
Use revived produce quickly!
How to Store Vegetables by Lifehacker
Wilted Vegetable Recipe Winners
Vegetable Stock
Vegetable stock is the perfect thing to make from vegetable scraps or wilted veggies. Here are a few links to some of my favorite blogs and recipes for vegetable stock.
Top Rated Vegetable Stock by Allrecipes
How to Make Vegetable Broth with Kitchen Scraps by Oh My Veggies
Lettuce Soup (you HAVE to try this!!!)
This is seriously our FAVORITE lettuce soup:
The Greatest Lettuce Soup on Earth by Epicurious
Followed closely by this one:
Lettuce and Potato Soup by NY Times
Potato Soup
This one sticks to the bones! It's an awesome fall and winter soup. I love that it always looks like I've spent the whole day making it but it's really easy as pie (even easier). I am absolutely in love with this recipe and a few of it's variations according to yours truly, which you'll find on this blog one day (if that day isn't here yet, of course).
The Absolutely Ultimate Potato Soup

The Ultimate Cabbage Soup That Will Make You Drool
This cabbage soup comes to you straight from Moscow as it's my mother's recipe.
Morning Juice
Okay, I'll fess up. I had to break up with my Bullet and haven't made a smoothie since then. It's been a few months now. I miss it but I can't go back. Still, for those of you that do juice, check out this highly rated recipe that I'd be making tomorrow if I had the means.
Baked Tomatoes with Garlic
Okay, this is not exactly a dish. But it's an excellent side dish or something to throw over pasta. It's so simple it's sinful!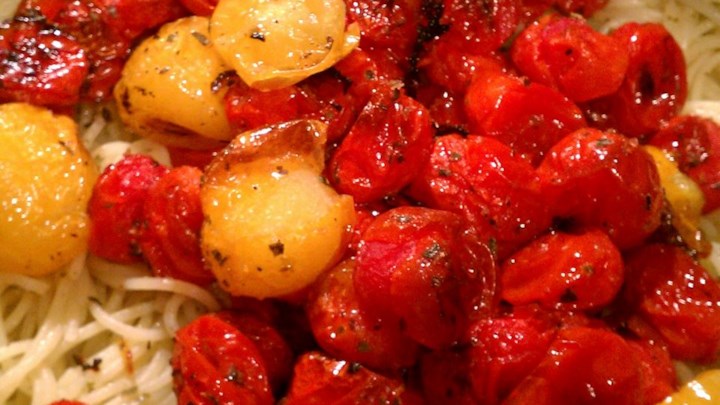 Jacques Pépin "Fridge Soup"
I love this man. The food he makes leaves me salivating so much I am left wilted myself, ahaha! One day, he was telling the audience about a recipe that his fans absolutely loved most. Now, this renowned French chef makes quite a few fancy recipes but his most sought after, as he put it? It's his Fridge Soup, as his daughter Susan deemed it. In other words, the soup that uses everything in the fridge. Try it, you'll love it.
Morning Power Omelette
Just because your spinach doesn't exactly look right, doesn't mean your morning can't.  I love a great omelet and so does Bossy. Toddler and mommy can't go wrong with this breakfast starting them off.
Scrumptious Cheesy Hammy Breakfast Egg Bake
This thing is to die for!!! It's a great Sunday treat. I think between me, Bossy, and Babi we eat the whole darn thing in one sitting… Okay, maybe not one sitting but it's scary close. This is a must make and is a great way to use up wrinkly tomatoes.
Homemade Tomato Sauce
The best way to use tomatoes that are about to spoil is to make a big ole pot of finger licking tomato sauce. And the word 'fresh' in the recipe title refers to the sauce 😉
Tips on Using Wilted Vegetables in Recipes
Know what vegetables are edible once wilted and which are absolutely a throwaway. For example, some old veggies tend to get bitter once the moisture works itself out of the vegetable.
Wilted and limp are not the same thing as slimy and rotten. If you see rot or mold, I'd chuck it out. If you're unsure throw it away.
Well Friends, Those are My Thoughts on Wilted Vegetables
Let me know if you guys and gals liked this post. I'd love to know if you want to see more posts and whether you've weathered your withered vegetables and what you've done with them to make them yummy. Share your thoughts, tricks, and recipes.
Until next time,
Bee
---
Bee is the contributor and keeper of this space -- Chewy Mom (formally known as Bee a Mom). She is a self-proclaimed chewy mama and is ruled by one adorable Bossy little being.
Together, they explore the topics of gentle parenting, healthy eating, grateful thinking, yoga bending, nifty hacking, green living, soul searching, and mindfulness practicing.
She has lived many lives. She has seen great beauty and utter darkness. It makes her whole. She is strong and with your presence, support, and love right here, right now ever stronger!!!
Read more about her by visiting the
Meet the Bee
page or
email her right now!
We hope you enjoy the adventures of Chewy & Bossy!